Triangle Youth Brass Band Directors
Jesse Rackley
Triangle Youth Brass Band Artistic Director, Watson Brass Band Conductor
Jesse Rackley is the Artistic Director of the Triangle Youth Brass Bands and conductor of the Watson Brass Band, a 30 piece British style brass band comprised of the most talented high school brass and percussion players in the Central North Carolina region. Previously, he served as Music Director of the Triangle Youth Brass Ensemble from 2009-2013. Under his direction, the Triangle 
Youth Brass Band program has expanded from two to three brass bands as well as a percussion ensemble.
Jesse is an accomplished tenor trombone and euphonium performer and educator. He is the Principal Trombone of the Fayetteville Symphony and performs regularly with the North Carolina Symphony. He has performed with the Virginia Symphony, Charleston Symphony, Greensboro Symphony, Winston-Salem Symphony, Wilmington symphony, Chamber Orchestra of the Triangle,  and Eastern Music Festival Orchestra. As a soloist, Jesse has been featured with the Triangle Brass Band, Triangle Youth Brass Band, 440th US Army Band, and East Carolina University Tuba Ensemble.
Jesse was the winner of the 2009 and 2007 Southeast Regional Tuba Euphonium Conference solo euphonium competition, runner up in the 2002 International Tuba Euphonium Conference Young Artist solo competition, and semi-finalist in the 2002 Leonard Falcone International Tuba Euphonium Competition.
As a teacher, Jesse maintains a large and active private studio throughout central North Carolina. His students consistently receive top honors in the NC All-District and All-State Bands and participate in various summer festivals. Jesse is in frequent demand as a soloist, clinician, and adjudicator throughout North Carolina.
Jesse lives in Morrisville with his two sons, Noah and Ryan, and his partner, Cindy.
Matt Edwards
Triangle Youth Brass Band Director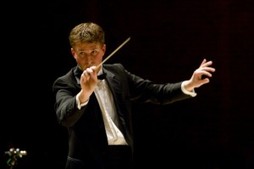 Matt Edwards is in his twenty-second year as Director of Bands at Fuquay-Varina High School.  Under his direction, the bands of Fuquay-Varina High School have have continued a long tradition of musical excellence, competitive success, and connection to the community.  The Marching Bengals have earned nearly 50 caption and class awards over the last five years during competitions in North Carolina.  The Symphonic Band and Wind Ensemble consistently receive Excellent and Superior ratings at District MPA.  His students are regular participants in All-District, All-State and collegiate honor groups and continue their musical careers in as non-music-majors in college ensembles and as music majors and minors at universities across the eastern United States.
Mr. Edwards has performed professionally as a trombonist with the Triangle Brass Band, North Carolina Wind Orchestra, Fayetteville Symphony Orchestra, Cape Fear Regional Theater, Greensboro Philharmonia and the Highland Brass Quintet.  Students under his private instruction have earned seats in Southeast and Central All-District Bands and the NC All-State Honor Bands.
Mr. Edwards received his Bachelor of Music Education degree in 1996 from the University of North Carolina at Greensboro.  He is a member of the North Carolina Music Educator's Association (NCMEA), National Association for Music Education (NAfME), and East-Central District Band Director's Association (ECDBA).  He was honored by the Central District Bandmasters' Association (CDBA) with the 2008 Director of the Year and the 2014 Award of Excellence.  He has served as ECDBA High School MPA Chair (2016-2022), CDBA President (2010-2012), NCBA MPA Committee representative (2009-2012, 2015-2018), CDBA High School All-District Auditions Chair (2005-2008), Southeast District All-District Clinic Chair/Host (1998) and Southeast District Concert MPA Chair/Host (2001).  He is entering his eleventh year as Music Director of the Triangle Youth Brass Band and has served as conductor at the UNCG Summer Music Camp.
Mr. Edwards is married to Robin Gorham and lives in Fuquay-Varina with their cat, Annie.
Robin Gorham
Triangle Youth Academy Brass Band Director
Robin Gorham retired from teaching middle school band in June of 2020 after a 25 year career and taught most recently at Fuquay-Varina Middle School.  Throughout her career, her students earned placements in district and state level honor bands and her concert bands earned Superior and Excellent ratings at concert band festivals.  Ms. Gorham has presented at several professional development conferences as well as hosted and mentored student teachers from area universities.  Her service and leadership in education included serving the Central District Band Directors Association as chairman as well as multiple other roles within the organization.  
Ms. Gorham received her undergraduate music education degree from the University of North Carolina at Chapel Hill and her Masters of Music in Music Education from the University of North Carolina at Greensboro.  In 2003, she earned National Board Certification and is honored to have received the North Carolina Band Association's Award of Excellence from Southeastern Band Directors Association in 2009 and from East Central Band Directors Association in 2021. She is a member of North Carolina Music Educators Association, National Association for Music Education, and was inducted into the American School Band Directors Association.
Ms. Gorham maintains a private horn studio and is the brass instructor for the Fuquay-Varina High School Marching Band.  She lives in Fuquay-Varina with her husband, Matt Edwards, director of the Fuquay-Varina High School Bands, and their cat, Annie.
Casey D'Sola
Triangle Youth Percussion Ensemble Director
Casey D'Sola is a percussionist, educator, and composer residing in Raleigh, North Carolina. As a freelance percussionist, Casey performs with the Richmond Symphony Orchestra, Chamber Orchestra of the Triangle, Carolina Philharmonic, Florence Symphony Orchestra, Raleigh Symphony Orchestra, Durham Symphony Orchestra, Tar River Orchestra, and Triangle Brass Band. Additionally, he was a member of the 2012 and 2013 Cadets 2 Drum and Bugle Corps, performing as a marimbist in the front ensemble.
Casey has performed at several state and national conferences, including the College Band Directors National Conference, Virginia Music Educators Association Conference, North Carolina Music Educators Association Conference, North American Brass Band Association Championships, Great American Brass Band Festival, North Carolina Percussion Symposium and the McCormick Marimba Festival. Casey won the 2019 Taiwan Percussion Arts Alliance Solo Competition, placed second in the 2018 NABBA Percussion Solo Competition and placed second in the 2019 Taipei World Percussion Championships Solo Marimba Competition; winning the Silver Medal. Recently, he was commissioned to write a percussion ensemble piece for sculptor, Wayne Vaughn. His piece, "Steel Mask," is published by Woodson Percussion and Publishing.
An advocate for quality percussion education, Casey co-founded the North Carolina Percussion Symposium; a weekend event designed to connect high school and collegiate percussion students with some of the very best professional percussionists in the field. A few of the past guest artists include Mark Ford, Paul Rennick, Matt Penland, and She-e Wu.
Casey is currently the Director of Bands at Washington GT Magnet Elementary School and the
concert percussion/front ensemble instructor at William G. Enloe GT Magnet High School in Raleigh, North Carolina. He is also a front ensemble instructor for Green Hope High School, 7th Regiment Drum and Bugle Corps and Equinox Percussion. Prior to joining the staff at Equinox, Casey was the front ensemble caption head and arranger for Alchemy Independent Percussion. In addition to his marching arts positions, Casey serves as the director of the Triangle Youth Percussion Ensemble.
Casey earned a B.M. in percussion performance from James Madison University, studying with C. William Rice, Dr. Michael Overman and Marlon Foster. Casey is a member of the Percussive Arts Society and an artist endorser for Artifact Percussion, Dynasty USA, Sabian Ltd., and Woodson Percussion and Publishing.
We are Grateful to Our Sponsors for their Support of Great Brass Music